WLAN in Schools − the German Standing Conference of the Ministers of Education and Cultural Affairs (KMK) decided as early as 2016 that all schools should have WLAN for "digital education". The experiences of the Corona crisis are expected to accelerate this development. However, the extensive body of research on health risks is not being considered in this process. An increasing number of German schools are using mobile devices such as tablets, smartphones and digital boards, which are usually operated with routers and WLAN access points emitting high-frequency electromagnetic waves.
We have already discussed the effects of electromagnetic radiation on children in our blog post "How EMFs affect the health of children". Now we will take a look specifically at studies on WLAN radiation and examine alternative options for schools.
WLAN in schools − a controversial topic
Review by graduate biologist Isabel Wilke, Germany 2018
The journal umwelt-medizin-gesellschaft published the study overview "Biologische und pathologische Wirkungen der 2,45 GHz auf Zellen, Fruchtbarkeit, Gehirn und Verhalten (Biological and pathological effects of 2.45 GHz on cells, fertility, brain and behaviour)", written by graduate biologist Isabel Wilke, in its 1/2018 issue. This article is a systematic review of studies on the effects of non-ionizing radiation at the frequency of 2.45 GHz, which is predominantly used for WLAN applications and microwaves. Wilke documents more than 100 studies, most of which found changes compared to the unirradiated groups at levels below the ICNIRP safety guidelines. There are 41 studies which show that oxidative cell stress is a mechanism of damage. In addition, the following injurious effects have been identified:
EEG and brain functions (12 studies)
Heart (5 studies)
Fertility (18 studies)
DNA and cancer development (29 studies)
Thyroid gland (3 studies)
Gene expression (5 studies)
Apoptosis (9 studies)
Liver (4 studies)
Cell growth (4 studies)
Cognition, learning, attention and behaviour (22 studies)
Based on the extensive body of research and the adverse health consequences, it is recommended that steps should be taken to reduce radiation exposure. This is because current exposure limits and SAR values do not protect against the health risks associated with WLAN radiation. The adverse effects on learning, attention and behaviour show that day-care centres and schools should refrain from using WLAN applications.
WLAN in Schools − heed warnings!
Even Telekom and the authorities warn that WLAN should not be used in places where people regularly spend long periods of time. Some examples are given below.
"The integrated antennas of your Speedport send and receive radio signals, e.g. for providing your WLAN. Avoid placing your Speedport in close proximity to bedrooms, children's rooms and recreation rooms to ensure that exposure to electromagnetic fields is kept as low as possible."
"WLAN access points, WLAN routers and base stations of cordless phones are best placed in the hallway or another room where you do not spend long periods of time. Bedrooms and children's rooms are not suitable for these devices. WLAN routers can be switched off when not in use. Switching them off at night is recommended."
The Federal Office for Radiation Protection (BfS) generally recommends minimizing personal radiation exposure so that possible risks are kept low: "It is preferable to use cable connections if you can dispense with wireless technology. Avoid placing central WLAN access points in the immediate vicinity of places where people are habitually present. If available, adjust the range limit to reduce the maximum radiated power."
The Cyprus Medical Association, the Austrian and Vienna Medical Chambers as well as the Cyprus National Committee for Environment and Children's Health demand the ban of WLAN in day-care centres and schools. "Decision-makers, especially in the education and health sectors, need to be aware of risks and safe alternatives of the technology. They must ensure that appropriate consideration is given to health risks and the vulnerability of children. Also they must work to provide a safe environment in schools as well as in day-care centres and paediatric facilities. They must promote age-appropriate, rational use of digital technology and must not allow wireless networks in schools and, in particular, in pre-schools, kindergartens and primary schools."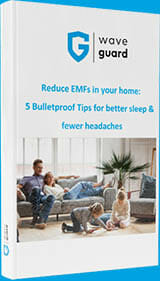 Free: Checklist for EMF protection in your home
Electrosmog can often trigger health related problems, such as sleep problems and lack of energy. What you'll discover:
What is electrosmog and why it is so harmful to health;
How to mitigate EMF exposure;
Easy and effective protective measures to promote wellbeing of every member of your family.
Alternative solutions for WLAN in Schools
Cabling
Wired computers/tablets and computer rooms should be maintained for teaching and learning to use PCs. WLAN is not necessary for education with digital media.
ALASTA Principle
If a school decides to use WLAN despite all misgivings, the usage criteria for WLAN transmitters must be set according to the ALASTA principle (As Low As Scientifically and Technically Achievable):
It should be possible to reduce the transmission power of the router to a minimum.
WLAN should only be switched on if it is necessary for the class.
The router should be mounted at the greatest possible distance from students and teachers.
To avoid unnecessary radiation into neighbouring rooms, the router should be mounted on a reflecting surface (e.g. metal plate, shielding paint).
A central time control system should ensure that routers are automatically switched off (e.g. at the end of the class).
Visible Light Communication (VLC)
Wireless data transmission with VLC takes place via LED room lighting. According to the current state of knowledge, health hazard is very low, since our body is adapted to light radiation. However, due attention must be given to the light quality of the source (should not have increased blue light components). In addition, the light source should be glare-free and the reverse channel should be operated in infrared.
Petition to ban WLAN radiation in day-care centres & schools
Children depend on adults to protect them. Schools neglect this duty when they use wireless radiant technology to create an environment with increased health risks. If you would like to do something about this, please read and sign the petition "Ban WLAN radiation at day-care centres, pre-schools and schools in Germany"!
Waveguard − protection products against electrosmog
Take your EMF protection into your own hands! To help you with this, we develop exclusive products to serve you both for on the go and for at home or in the office. Our Qi technology is built into all of our Qi devices.
Benefits of Qi technology:
use modern technology such as wifi, cellular network & Bluetooth without hesitation;
German technology & production;
non electric;
simple application;
free regeneration;
every year, around 2,500 customers worldwide trust Waveguard with their EMF protection.
Do you have any questions about your personal EMF protection? We are here to help.
Did you like this article? Follow the latest news on the subject of electrosmog in our Waveguard blog.
Sources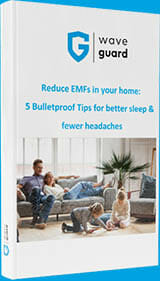 Free: Checklist for EMF protection in your home
Electrosmog can often trigger health related problems, such as sleep problems and lack of energy. What you'll discover:
What is electrosmog and why it is so harmful to health;
How to mitigate EMF exposure;
Easy and effective protective measures to promote wellbeing of every member of your family.