Bluetooth/wireless headphones are now considered a standard equipment for smartphones and similar devices, with Apple leading the way around this trend. As the  headphone jack was removed with the arrival of iPhone 7, the AirPods set an example for the entire industry. Apple stated its goal is to improve wireless solutions and to say goodbye to wired headphones, which are now considered obsolete. This is why we chose the AirPods as the focus of our discussion about the health risks posed by Bluetooth headphones. In this article, we will clarify what Bluetooth is, what radiation exposure it causes and what health risks are associated with it.
Appeal from international scientists warns against Bluetooth headphones
The spark for the debate in 2017 started with the appeal by 250 international scientists and doctors to the World Health Organization (WHO). They called for more secure measures against non-ionising electromagnetic fields (EMF) and stricter limit values.
The experts warn about low-frequency electromagnetic fields, such as those caused by wireless products such as smartphones, routers, smart meters, baby monitors or Bluetooth headphones. They can contribute to:
an increased risk of cancer
neurological diseases
cellular stress and gene damage
general malaise
What is bluetooth?
Interestingly, the term Bluetooth is derived from the Danish King Harald Blauzahn (Harald Blåtand / Harald I) and his reign in the medieval history of the Vikings at the end of the 10th century, where he united the Danish tribes.
Bluetooth is a radio standard (WPAN) that is built into digital devices. It enables a wireless connection of devices over a short distance. Similar to Wifi or DECT, a high-frequency electromagnetic field connects the transmitter and receiver. The maximum range varies between 10 and 100 m depending on the device. In an office environment, for instance, PCs and laptops can be connected to printers, wireless keyboards or mice. Telephone calls between cell phone and headset or music between MP3 players and headphones are also transmitted wirelessly.
Which frequencies does Bluetooth use?
Bluetooth uses radio frequencies of the ISM band (Industrial Scientific Medical) between 2.4000 and 2.4835 GHz. There are three transmission power classes that allow different ranges:
1st class: transmission power up to 100 mW from a range of 100 m
2nd class: transmission power up to 2.5 mW from a range of 10 m
3rd class: transmission power up to 1 mW for applications in the immediate vicinity up to a maximum of 10 m
Class 1 devices must automatically adjust the current transmission power according to actual requirements, with most marketed devices being in Classes 2 and 3. The higher the transmission power, the stronger the electromagnetic field of a device. It's also worth noting that the average power emitted in any of those three classes also depends on the operating status and the amount of transmitted data.
Bluetooth versions
The current version is Bluetooth 5. Since the first version released in July 1999, newly introduced Bluetooth versions have:
Reduced power consumption
Transmission speed, rate and security increased
Stabilized connections
Optimised compatibility with devices from different manufacturers
Bluetooth version 4, in existence since the fourth quarter of 2010, is mainly used for clothing with built-in sensors (wearables). It is also used for the Internet of Things (IoT). Smart devices for house control, such as lighting or heating (Smart Home), or smartwatches, weather sensors or fitness trackers use this technology. With the Bluetooth version 5.0, available since June 2016, a range of up to 200 m is possible.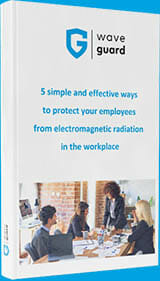 Free: Checklist for EMF protection in your workplace
Electrosmog can often trigger health related problems, such as headaches and poor concentration.
What you'll discover:
What is electrosmog and why it is so harmful to health;
How to mitigate EMF exposure in your workplace;
Easy and effective protective measures to promote wellbeing of every employee in your workplace.
Safety limits for bluetooth
Radiation protection limit values ​​were determined on the basis of the thermal effect, i.e. the warming of the body's tissues. What they do  not relate to is the transmission power. This is based on the "Guidelines for Limiting Exposure to Time-Variable Electric, Magnetic and Electromagnetic Fields (up to 300 GHz)" published by the ICNIRP in 1998. If you are interested in exploring this topic further, read our article "Radiation Protection Limits – How did they come about and why are they out of date?"
The maximum values ​​recommended for the protection of health, also known as the Specific Absorption Rate (SAR), are:
0.08 W / kg averaged over the whole body
2 W / kg locally averaged over parts of the body, for example in the head
If the recommended maximum values ​​are adhered to, there should be no health risks. SAR values ​​from radio waves from individual Bluetooth or WLAN devices usually remain below the recommended limit values, particularly when operated remotely. However, when positioning the laptop on the lap or Bluetooth in-ear headphones, for instance, set limits are exceeded. This means that pulsed radiation can interfere with biological processes well below the limit values. Bluetooth devices in the Performance Class 1 have a range of more than 100 m. This means they are comparable to Wifi routers, as they work in the same frequency band.
SAR value for AirPods
The SAR report for the Apple AirPods recorded a value of 0.466 W / kg, in Class 1. This means that although they have a significantly higher SAR value than conventional devices, they are still below the recommended maximum SAR value. However, Jerry Philips, biochemist at the University of Colorado Springs, points out that with Bluetooth in-ear headphones such as the AirPods, the location directly in the ear canal can be problematic, as it exposes the local tissue in the ear to direct radiation.
EMF self-test: What impact do Bluetooth headphones have on health?
Particularly interesting is the self-test performed by Graham Ryan, an American biochemist and nutritionist. Graham got curious about the levels of EMFs in AirPods as he noticed feeling spaced out, with mood swings, poor concentration and headaches when using Apple's AirPods for a period of time. He decided to test the emitted field strength with an EMF measuring device in a variety of bluetooth and wired headphones: You can watch his video report as he documented this.
The result of his informal experiment: Wired headphones radiate, but primarily through the magnetic field of the audio components and only to a small extent. The tested over-ear Bluetooth headphones emit fields of different strength. These fields are distributed over larger areas of the body, and, unlike AirPods, aren't placed directly inside of the ear canal. This is why they are less likely to cause discomfort. The cause of Ryan's symptoms could therefore be attributed to a combination of field strength and placement in the ear canal.
Recommendations and precaution for bluetooth headphones and health
Overall, the trend towards more mobile radio applications leads to more EMF exposure. For this reason, the Federal Office for Radiation Protection (BfS) generally recommends minimising EMF exposure where possible. In this way, potentially harmful but previously unrecognised health risks can be minimised; especially for those who are electrosensitive or who are already suffering from health problems.
Some of the most simple protective measures are:
Follow the minimum distances specified by the manufacturer.
If available, set the range limitation to reduce the maximum radiated power.
Opt in for wired connections when wireless technology is not required.
AirTube headphones transmit the sound from the loudspeaker, placed at a safe distance, into the ear. Due to this spacing, no radiation is directed into the head area.
Waveguard − protection products against electrosmog
Take your EMF protection into your own hands! To help you with this, we develop exclusive products to serve you both for on the go and for at home or in the office. Our Qi technology is built into all of our Qi devices.
Benefits of Qi technology:
use modern technology such as wifi, cellular network & Bluetooth without hesitation;
German technology & production;
non electric;
simple application;
free regeneration;
every year, around 2,500 customers worldwide trust Waveguard with their EMF protection.
Do you have any questions about your personal EMF protection? We are here to help.
Did you like this article? Follow the latest news on the subject of electrosmog in our Waveguard blog.
References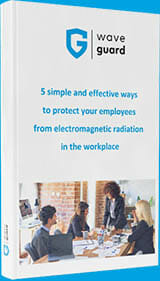 Free: Checklist for EMF protection in your workplace
Electrosmog can often trigger health related problems, such as headaches and poor concentration.
What you'll discover:
What is electrosmog and why it is so harmful to health;
How to mitigate EMF exposure in your workplace;
Easy and effective protective measures to promote wellbeing of every employee in your workplace.